How to Repressurise or Fill a Combi Boiler
by James Helsum
---
THIS PAGE MAY CONTAIN AFFILIATE LINKS, MEANING WE RECEIVE A COMMISSION IF YOU DECIDE TO MAKE A PURCHASE VIA OUR LINKS, THERE IS NO COST TO YOU ... PLEASE READ OUR FULL DISCLOSURE FOR MORE INFO ... THANK YOU!
Posted on 02-03-2020 10:03 PM
---
---
Quite a few people with a Combi Boiler or Sealed Central Heating System find that their central heating is no longer working, and when they looking at their boiler they discover that the water pressure dial shows it is low and in fact in the red or pink zone on the dial.
So, in this article we're going to look at how to repressurise, or simply fill for the first time, a combi boiler.
If a boiler gets below a certain pressure, which is often one bar. It'll probably cut-out and stop working.
Not all boilers do this but quite a lot do this now so if you have actually looked down into it you can see a pressure gauge.
This tells you pressure of the central heating system pipework actually in the boiler.
The pressure gauge in the video is not anywhere near 1 bar.
It needs to be approximately one bar for the for the boiler to operate correctly. So, what you need to do is top the pressure up to one bar.
To up the pressure a of combi bolier system we use what's called the filling loop. That is simply by using the pressure in the cold water supply.
In the video it shows you a filling loop for that central heating system. When you open the valve on the water pipe end, water flows into the system and raises the pressure. After pressurizing the system there's a reverse flow check valve that should stop any water from running back.
Allowing Water to Flow Into Your Central Heating System to Re-pressurize Your Boiler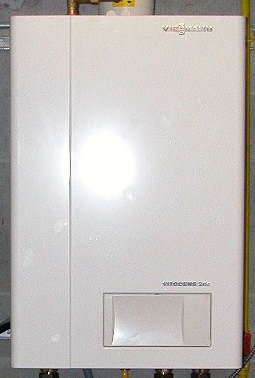 Open the valve at the water main end pressure gage, gently until your hear or feel water flowing. Not too wide open, just slowly and gently does it!
When it reaches one bar carry on allowing the water to flow and the pressure to rise until the pressure reaches the central of the portion of the pressure gauge dial (usually marked in green), and close it.
By law you're not supposed to keep the flexible pipe connected to the water supply pipe. You're supposed to disconnect it when you've got the boiler at over 1 bar.
But, you might find that one or more radiators are cool at the top and need air to be bled out. After you bleed the radiators, you're will have let air out of the system. This will cause the boiler system pressure to drop again.
The result of that is that you have to put a bit more water in to keep the pressure up. That means it becomes an action which often has to be repeated several times. You may find that you have to go and bleed the radiators, come back and then top the combi up again.
But, when you've done that and the gauge has settled at one bar plus a bit. That's the time to disconnect the boiler filling loop from the water pipe.
When you disconnect, don't forget to use a container in order to collect any water which runs out. Don't forget that it is a legal requirement to remove the filling loop once you have pressurized the boiler.
Finally, it's a good idea to replace any caps which were on pipe ends before you started.
Why Does a Combi Boiler Need Pressure?
Modern boilers generally no longer have tanks in the loft to pressurise the system through gravity.
Instead they are sealed systems, and typically only require manual topping up from the mains water supply when the internal pressure has dropped (usually because of tiny leaks).
This is a simple operation that only takes a few seconds, and involves no more than connecting a piece of flexible pipe provided below your combi-boiler, and opening and closing a valve on a pipe below the boiler.
---